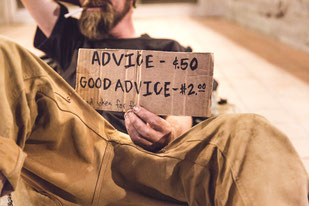 Paris is a wonderful city, but sometimes it's hard to know how to avoid the basic tricks. 
To fully appreciate your trip and an utmost security, check the few advices below.
How to behave in the street, in the restaurants, in the transports... If you respect all these rules, no Parisian should be rude to you! (There always are few exceptions)
Parisians are generally nice and polite, but Paris is a big city and like in every overbusy capitals, people don't like to waste their time. If you block a corridor in the metro, they generally start to be unpleasant... On the contrary, if you make the effort to speak even just few words in French, they truly appreciate it.
Better be warned !
---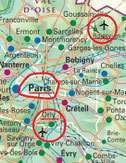 Paris has two airports which are both out of the city. 
Orly airport is closer to Paris centre but Roissy-Charles de Gaulle offers a straight and easy transportation. 
From the moment you leave the airport until your accomodation, it's better to count 1h drive/transports, 1h30 in case of problems (traffic, transports issue...).
NB : Please note Beauvais airport is not in Paris region, but it is linked to Paris centre by a bus. 
Cabs : A lot of non-official drivers will await for you at the exit of the airport. They don't hesitate to get your attention by a "Taxi, M'am?". There is no garantee about their prices and insurance. Avoid them, go until the end of the airport information leading you to the official Taxi station. And everytyhing should be okay!
Official parisian taxis have a signage on the car roof : red, it's not available, find another one; green, it's free, let's talk to the driver!
Your hotel can also easily organize a pick-up for you with a private driver. Don't hesitate to ask.
Transports : Regular transports connect Paris and its region, including the airports. You can buy your ticket at a counter or a machine. Counters accept cash and cards. Machines generally accepts cards only. 
You can also book tickets online through the Tourist Office. 
Roissy-Charles de Gaulle :
RER B runs from 5am to 11pm. There are stops in suburb and in Paris. Some of them go straightly to Paris, which is quicker. Wherever you are in the airport, information leads you step by step to this suburb train (you need to use the CDGval shuttle if you arrive terminal 1 to get RER B, it's a free service).
Orly :
You can get a RER B or C by a bus/shuttle. The RER has stops in Paris. There is also the Orlybus connecting the airport and the south of Paris, which is fast but often quite crowded. It runs until midnight.
Beware of pickpockets : It's not a legend, if it's really obvious you're lost with a map in your hands, you become an easy target for pickpockets because you focus on something else. But even if you have lived in Paris for 20 years, it can happen to you. So avoid to put wallets or phones in your pockets, prefer bags with no zip and always have a look at who's behind you in the queue.
A lot of scams exist in Paris so don't sign any petition, don't accept a ring or a bracelet and never ever start to play a game of chance in the street!
Cross the road : To cross the road, be careful with double ways: buses and taxis have their own lanes in Paris and this lane can be in the opposite direction of the rest of the circulation, with a separate light.
You will sometimes notice that sideways disappear in old small parisian streets. Just walk along the sideway and watch if cars or bikes arrive. 
Bikes : If you rent a bike or a scooter, be sure to use the bike paths or the sides of the road, but not the sidewalks.
Tap water : Tap water is the most controlled product of the whole French food industry and it's available everywhere in Paris streets. Open your eyes in gardens, parks, town squares : there is always a drinking fountain around to fill your bottle. Here is a map.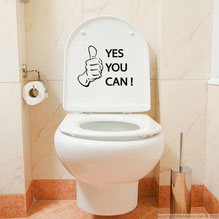 We all lived this terrible moment where you suddenly feel an emergency and... there is no toilet around or super long lines to enter in one. 
Here are few tips to survive in Paris when you're out:
- map of public and free toilets in the street
- a lot of cafes allow you to use their toilets as long as you order something (in touristic areas, some of them even offer to use WC against 50 cents)
- there are toilets in rail stations (from 40 cents to 2€) and commercial centres (from 50 cents to 1€)
- WC are always free in department stores, museums, libraries, city halls and any other public equipment (there is generally one nearby, the hardest part is to find it!)
The best way to be well-served in France is to respect these few rules :
- wait in the entrance of the cafe/restaurant until someone asks you how many you are and if you want to eat or just drink
- if you speak few words of French (bonjour, merci, s'il vous plaît), try to use them : the waiters appreciate your efforts and will be nicer
- a lot of restaurants in Paris translate their menus, but if it's not the case in the restaurant you chose, it only means you're not in a touristic place, not that you're not welcome! In that case, don't hesitate to ask questions to the waiters, they generally speak at least a basic English
-  if you have allergies or a vegetarian/vegan diet, menus evolved these last years and precise what could suit you; if it's not the case, once again, don't be shy and ask!
- if you're not fond of sodas or wines, you can order water in two different ways: a bottle of mineral water (still or sparkling), which figures in the menu, or tap water which is free in France (just ask "une carafe d'eau")
If you are in a restaurant where people served you from the beginning, it would be an offence to stand up and try to pay the bill at the counter.
Stay at your table and try to make eye-contact with a waiter. Put you hand up if you want to be more visible. 
If you are in a hurry, you can ask the bill while you order your desserts or cafes. In this case, the bill arrive on your table in the same time that your food and you can pay immediatly if you are ready.
Tips are only by cash in France. It is always appreciated but not an obligation. 
 (NB: Japanese and chinese restaurants often prefer clients to pay at the counter.)
Since middle-ages, Paris is a fabulous place to eat and discover food of different regions or even of the rest of the world. It is the reason why there are a lot of specialized restaurants in Paris. And if you want to eat a good crêpe, it's always better to go a crêperie than to a classic restaurant. We love specialized restaurants! Each region of France is represented in Paris and each has a typical menu of the region.
Just think that in your own country, you would never go to a sea food restaurant and order a beef steak! And as you know, French food is not a joke.
I invite you to choose your restaurant in consideration of what you fancy. If you don't have a precise idea, just go to a general one but please, don't complain if they don't serve the speciality you were looking for. French people don't appreciate when foreigners blame their customs. 
If you want to have a drink in a brasserie or restaurant, follow the same rules than above (wait before to go a table, etc.)
If it's a bar, forget all the rules of restaurants! Just enter, sit down where you can, order at the counter and pay immediatly. Tips are by cash too.
The city of Paris counts 136 museums. We have museums about everything: fairground arts, dolls, fans, sewers, cinema, smokers, wine, chocolate, perfume... Whatever your passion is, there is necessary a museum about it in Paris.
Add a hundred more in suburb and you obtain an exceptional concentration of culture and heritage. How many regions in the world have more or less 300 museums and monuments?
If it's not your first time in Paris, you might be curious to discover new places:
Temperature : In summer, don't keep your jacket because you're affraid to get cold with the air con... There is no air con in French museums. On the contrary, take a fan if you have one: a busy museum can fastly turn to hell!
Cloakroom : Many museums offer a cloakroom service which is free. But because the government financially support these cultural equipments and pay each member of the staff, you are not allowed to leave a tip at the cloakroom. Don't be surprised.
Shoes : Get comfortable shoes to spend time in a museum: you will stand a lot (never enough seats), walk more than you expected, and if you chose your most beautiful pair to be the masterpiece, you will soon regret it.
Lines : If you can't stand long queues, few solutions exist:
- order a guided tour: our work offers us priority in museums (which doesn't mean you are the only one with a guide today! But the time to wait with a guide is better than if you go by yourselves)
- get a fastpass ticket: for exhibitions and many museums, you can pre-book and avoid lines
- priviledge less visited museums or late opening days, which are less busy
Other tips and precisions are given case by case on the page of each tour (opening days, best time to visit, etc.).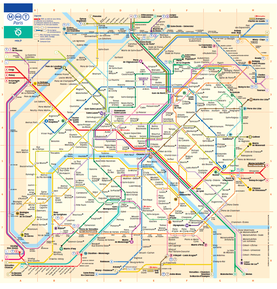 I know, that scheme can look very confusing, but actually, Paris transports are really easy to use.
A lot of possible changements, one colour for each line, they don't have proper names you need to remember like in London: just figures or letters. The hardest step is to remember in which direction you get on the train (there is no north/south indication, only the name of the final station).
Here is a brief to understand the 5 kind of transports in Paris:
- metro : subway trains, run in Paris and close suburb only (lines 1 to 14)
- RER : far suburb trains connecting two suburbs and crossing Paris in the middle with many stops (lines A to E)
- suburb train : far suburb trains connecting the capital and the suburb which stop at a precise rail station in Paris (any other letter)
- tramway : trolley, run in the streets but considering the congestion and mess which already exist in Paris, the tramways are used to circle the town and in close suburb (T1 to T8)
 - bus : do I really need to explain it?
Ticket T+ : This basic ticket works in every buses, tramways and metros of Paris and its suburb.  It doesn't work for suburb trains. And it works for RER as long as YOU STAY IN PARIS! If you get off the RER with a T+ once you're out of Paris, you won't be able to exit. There you call a staff member and they ask you to pay the difference or a fine, so just try to avoid the bad surprise!
More information on the official website. 
Tickets T+ can be bought one by one, or ten by ten (cheaper in this case).
One ticket is for one travel! (including all the changements, except for the bus: 1 ticket = 1 bus)
And you should always validate your ticket: it's automatically the case in metro or RER because you pass a turnstile or automatic door before to get on, but it's not true for tramways where you validate inside only. 
Suburb trains : The price for a suburb ticket is calculated in fonction of the distance. You will pay more to go 20 miles away than 10. You can buy a suburb ticket in any station of the metro: choose the English language on the machine, enter your departure station and your destination. The machine gives you the price.
NB: Remember airports are in suburb! Don't try to leave Paris with a T+.
Pass : If you prefer to use a pass than tickets, you have different options. You can get tickets and information by the RATP or the Tourist Office websites. But consider you will probably walk a lot in Paris because a lot of must-do are in the centre and it's so pleasant to roam around. So if you calculate well your plans, you would probably need a pass only for certain days and destinations of your trip (Versailles, Montmartre, airports...). 
- pickpockets operate mainly in the transports, so keep your bag in front of you or between your legs
- when you pass doors or turnstiles, don't hesitate too long after you validated your ticket: it happens every day that people wait and the doors finally close on their heads because the time is gone
- lines 1 and 14 are automatic, which means even hurried Parisians avoid to enter after the ring! There is no driver in these lines, so no one will re-open the doors for you if your arm is partly stuck! It generally hurts you and creates a bug in the system which gonna stop the line for long minutes while everyone look at you with anger. Wait for the next one, it's only in few minutes!
- if you entered the metro but not the rest of your family, exit at the next station and... don't move! Normally, your family entered in the next metro at the same place exactly! They will be face to you in 3 minutes
- Versailles palace is in suburb, but Versailles is a big city, with 3 rail stations. So have a look on your travel to not go to Versailles by the longest way
- Louvre and Orsay museums are in Paris, so don't go to Orsay or Louvre cities in suburb...
- to stay in good terms with Parisians, don't block corridors, escalators (right side if you don't move, left side if you carry on), don't sit down on folding seats when the metro is packed and go as far as possible when you enter: there is nothing worse than someone who enters and stays in the doors, blocking everyone behind!
Basic French is always useful and if you have never been good at languages, just remember the most important :
- hello : bonjour or bonsoir (from what time shall you start to say "bonsoir"? It's a national debate, but 6pm sounds like a reasonable time to not upset anyone)
- thank you / thank you so much : merci / merci beaucoup
- you're welcome : de rien
- bye / have a good day : au revoir / bonne journée (/soirée from 6pm); "bye" also works after a friendly moment, French people love to say "ciao" or "bye" instead of traditional French greetings
- please : s'il vous plaît or s'il te plaît (the second solution means you know well the personn you're talking to)
- excuse me / sorry / I beg your pardon : pardon (simply); but if you want to insist on the fact you're really sorry, you can say "je suis désolé"
By the way, choosing between "vous" and "tu" is a complicated question that someone solved completely for you. Please consult in detail the following picture which is complex but perfect!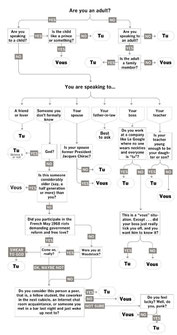 ---
If you speak French a bit, try to train in different occasions: to ask the direction, to order food,.. But if you see the person face to you is bothered because it takes too long, just give up and try in a different context.
You now have many ways to train your French in Paris : courses, diner with a host, friendly meetings...
And of course if you practice more your French, you'll be treated like a local and not a foreigner, so you need to learn how to kiss properly to say hello. Once again, I use a wonderful work which is not mine; a lot of his videos are very useful to understand french culture and appreciate Paris: